Conquer the Kingdom
Fall in love with an epic story, a classic tale of good verse evil. Then forget about it for a few months. How do you rekindle your excitement? By reliving the adventure, of course joining forces with your favorite characters. We helped Snow White & the Huntsman fanatics do just that through an online journey, with four levels inspired by scenes from the movie.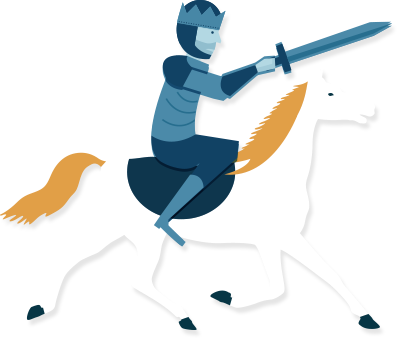 Challenge
Create awareness and engagement that drives pre-order and purchase of the home release of Snow White & the Huntsman

Insights
The target consumer includes movie buffs, gamers and music fanatics
They're digitally and socially savvy, so to compete for their attention, marketing must be dynamic, provide challenging experiences and create opportunities for re-engagement
Those who purchase Blu-Ray Discs™ and DVDs do so because they like to relive their favorite scenes repeatedly

Strategy
Engage the target audience with a multi-level online challenge, with addictive mini-games and the incentive of sweepstakes entries for every engagement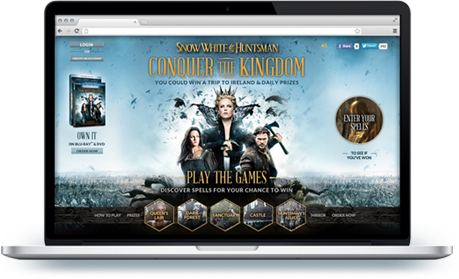 Online Game
We challenged consumers to Conquer the Kingdom with four levels of addictive mini-games that earned them chances to win an Enchanted Getaway to Ireland.
Sweepstakes
Players earned spells, which could be cast for daily prizes and entries into a grand prize sweepstakes.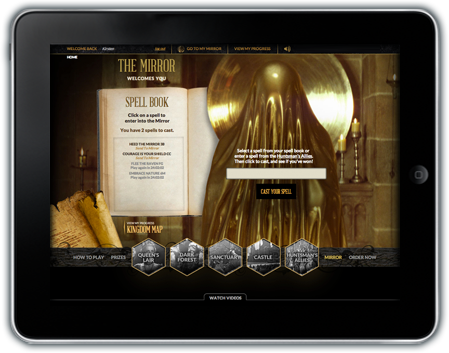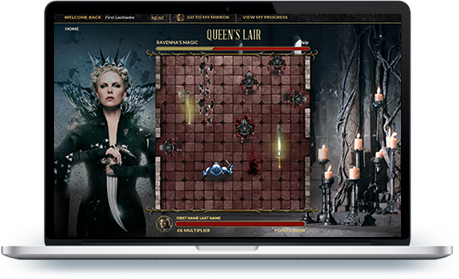 Repeat Engagement
Each level was an addictive mini-game, with new puzzles released regularly to entice re-visits and repeat engagement.
Exclusive Videos
To tease the highly anticipated release date, fans were able to watch exclusive movie clips.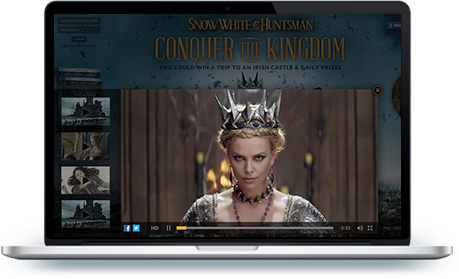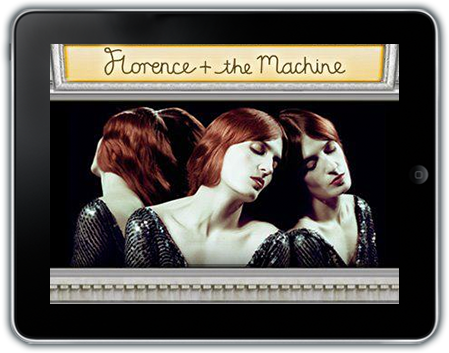 Partnerships
Powerful allies helped extend our reach and build buzz, sending users on a digital scavenger hunt for bonus spell codes.
Social Sharing
Social sharing was integrated into the experience, driving viral spread of the promotion and positioning players as advocates of the movie.